Nomadic Seeds – VI. CARING
26.6.21
•18:00-19:30 CET•
Online
Medicinal Plants and their Coexistence
18:00 C.E.T (Berlin, Rome, Vienna)/ 17.00 G.M.T (London)/  12.00 Noon E.S.T (New York)/ 11.00 C.O.T. (Bogota)/ 22.00 B.S.T. (Dhaka)
To Register please email: maralea.hohn@gmail.com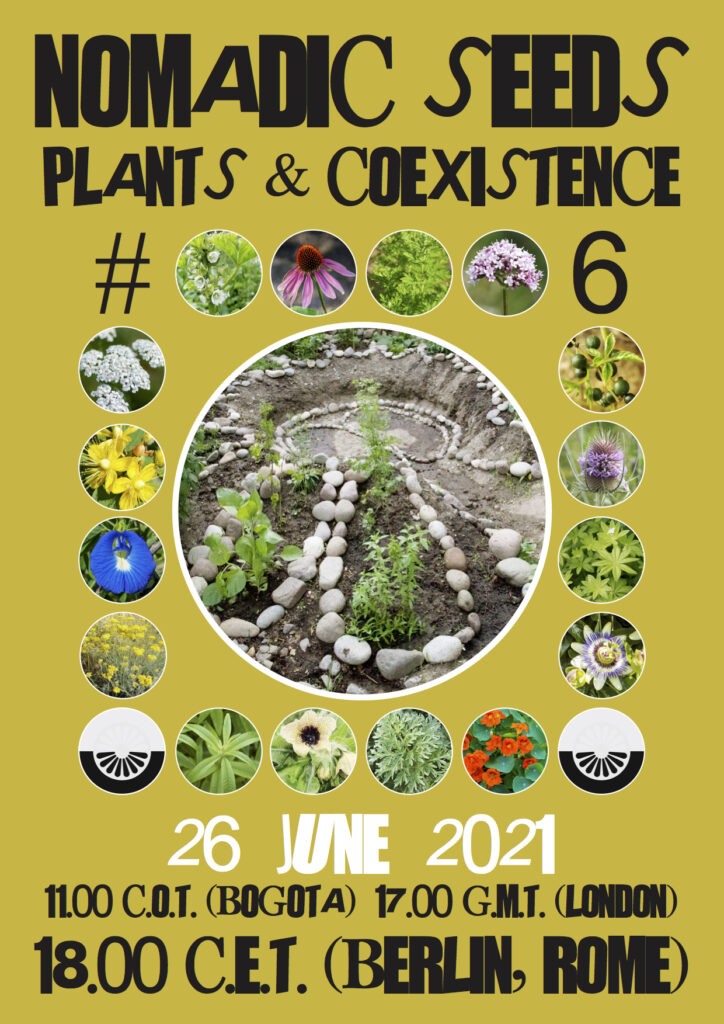 – HEALING PLANTS & COEXISTENCE
Dear old and new gardeners, activists and wild plants,
we invite you to the sixth edition of NOMADIC SEEDS – (HEALING) PLANTS & THEIR COEXISTENCE. We will dedicate this meeting to the conviviality of (healing) plants. Which ones come along well with each other and which ones will not grow together or even kill each other? We encourage you to share your practical experiences, thoughts and questions with the whole group. Please write us if you would like to show something and need technical help or any other support.
In the meeting we will also take a look at the already submitted works for the exhibition space at Rotor, Centre for Contemporary Art in Graz and watch the Planting Protest Performance at the 29th May in Weimar. Also Mara will take us (if the wheater allows it) to the garden of Orto Semirurali in Bolzano where she founded the Nomadic Healing Wheel with an intercultural group of gardeners. This time our meeting will take place as in common – we will meet as the Nomadic Seeds Group via Zoom. The meeting will not be streamed and will just be accessible to you who got invited.
ABOUT THE SESSION (Duration: 90 minutes)
A) PLANTS & THEIR COEXISTENCE – SHARING SECRETS & QUESTIONS (30 minutes)
B) TEA – BREAK WITH ANOTHER GARDENER (15 minutes) 
C) CONVIVIALITY OF NOMADIC SEEDS
(FROM THE EXHIBITION AT ROTOR, GRAZ) (15 minutes)
D) CONVIVIALITY OF MEMORIES (ABOUT THE PLANTING PROTEST PERFORMANCE OF THE COLOMBIAN MFA GROUP IN PARADISE, WEIMAR) (10 minutes)
E) PLANTS IN A NOMADIC HEALING WHEEL
(NOMADIC HEALING WHEEL, BOLZANO) (20 minutes)
We are looking forward to seeing you!
Delaine and Mara <3