2018
RETROSPEKTIVE:
GYPSY-LAND
8/9/10 April 2018
Maxim Gorki Theater / Studio Я

A retrospective of the life's work of Damian Le Bas, complemented with works by Gabi Jimenez and Karol Radziszewski.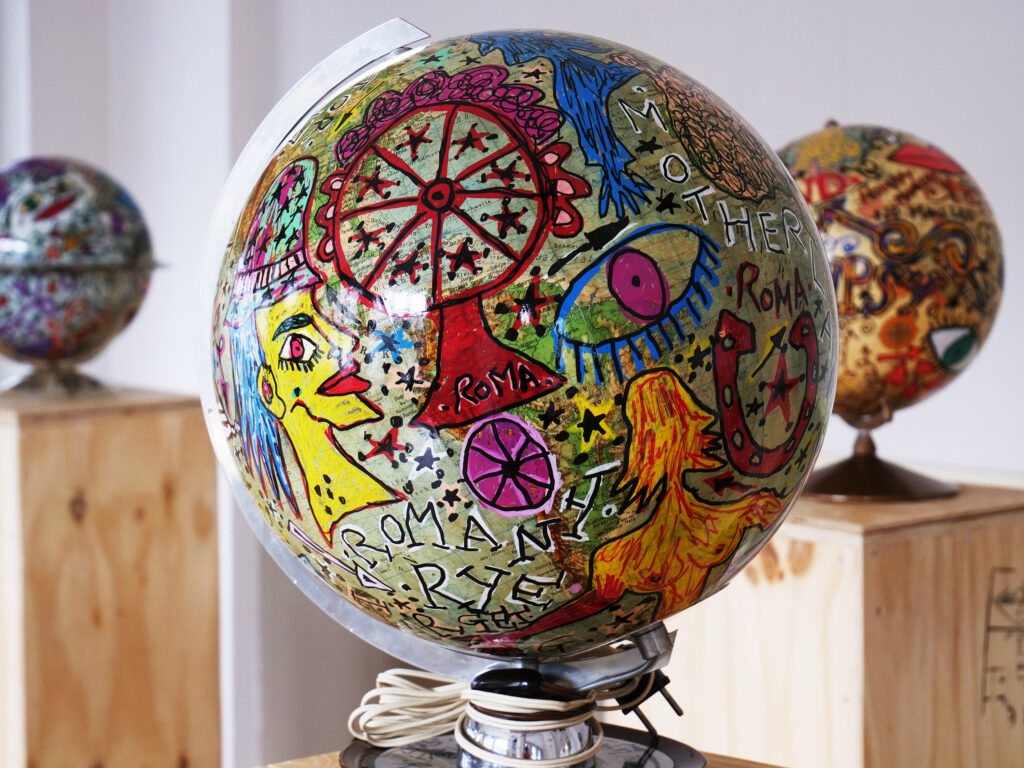 Damian Le Bas was one of the 16 artists who exhibited in the First Roma Pavilion Paradise Lost in Venice Biennale in 2007. He was a cross practice artist, he attended the Royal College of Art London 1985 to 1987. His work has been included in outsider art collections in various exhibitions since the late 1980's. The works in this retrospective are reflective of different aspects of his artistic career including maps, in which he visually subverted ideas of boundaries and borders, Gypsy Dada, objects, sketch books and archive material from his studio as well as a selection of works made in collaboration with the artist Gabi Jimenez. The exhibition will be complemented by images along with Damian Le Bas' tattoo drawings, a result of a photographic collaboration with Karol Radziszewski, started through the residency at Jaw Dikh! in Czarna Góra, Poland.
A project by RomaTrial e.V. and Maxim Gorki Theater / Studio Я for the Alliance for Solidarity with the Sinti and Roma of Europe, sponsored by Hauptstadtkulturfonds. With friendly support by Collegium Hungaricum Berlin. The retrospective Gypsyland takes place in collaboration with the Allianz Kulturstiftung.
DIE LANGE NACHT DES COMING-OUTS
7 April 2018
Studio Я / stagediving
Performance night, collectively developed
Perfomancec by and with Hamze Bytyçi, Mihaela Drăgan, László Farkas, Franciska Farkas, Kristóf Horváth, Riah May Knight, Mihails Kokarevics, Lindy Larsson, Damian James Le Bas, Delaine Le Bas, Candis Nergaard, Sandra Selimović, Simonida Selimović
Stage and Costumes Delaine Le Bas, Raissa Kankelfitz
Dramaturgy Tobias Herzberg, Rebecca Ajnwojner
Party afterwards with mit Dj*s Laszlo & Delaine
What does it cost to belong? What does getting out feel like? Can we step out of the roles that others have given us?
The artists dive into a world of prejudices, cliches and expectations. Wander with the gaze of those who don't want to join in. They don't fight against prejudice, they exploit it. They max out every cliche beyond all measure.
The Roma Biennale 2018 kickoff is composed of a collectively developed night of performance that's simply brimming with self-assertion. An expertly playful, multi-perspective happening about coming-out as an artistic-political strategy: Komm jetzt raus! – Come out now!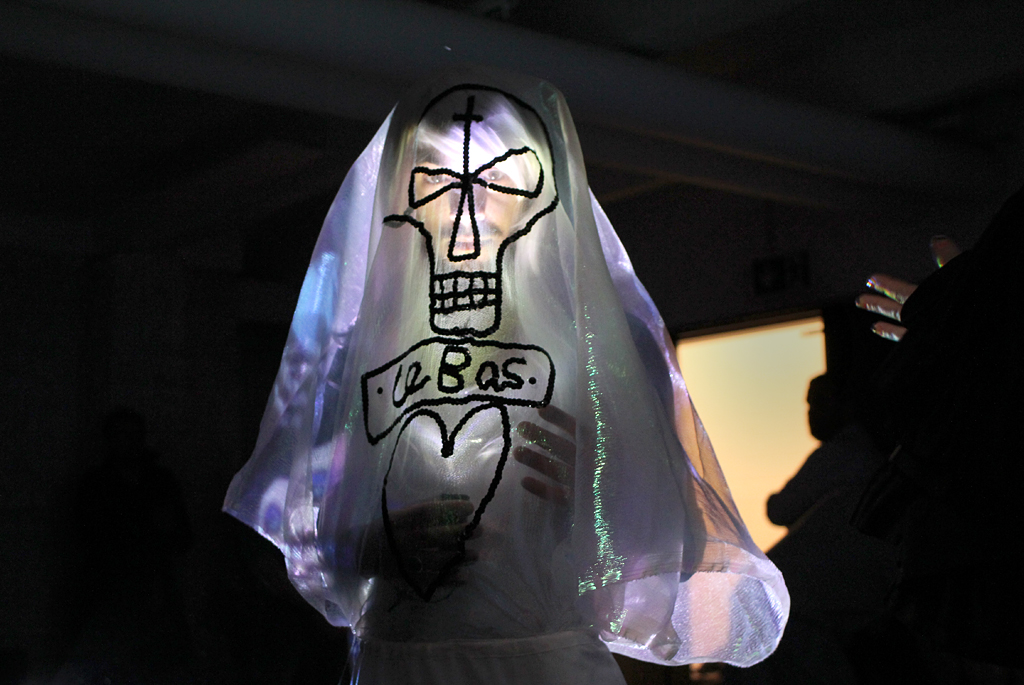 ROMANI EMBASSY
7/8/9 April 2018
Maxim Gorki Theater, Garderobe Foyer
Performance by and with Delaine Le Bas
Romani Embassy is an ongoing performance and installation by Delaine Le Bas. It is embodied within the artist and or within the space that the artist occupies. As a community Roma have not "one homeland", not one country, not one nation state as such and therefore no embassy to represent them in times of trouble.
Romani Embassy of Delaine Le Bas is an information point, a living archive, an embodiment of reclaiming the stolen artefact that we have become. It can morph in size, change its appearance, appear and disappear. It is cardboard sign made on the move.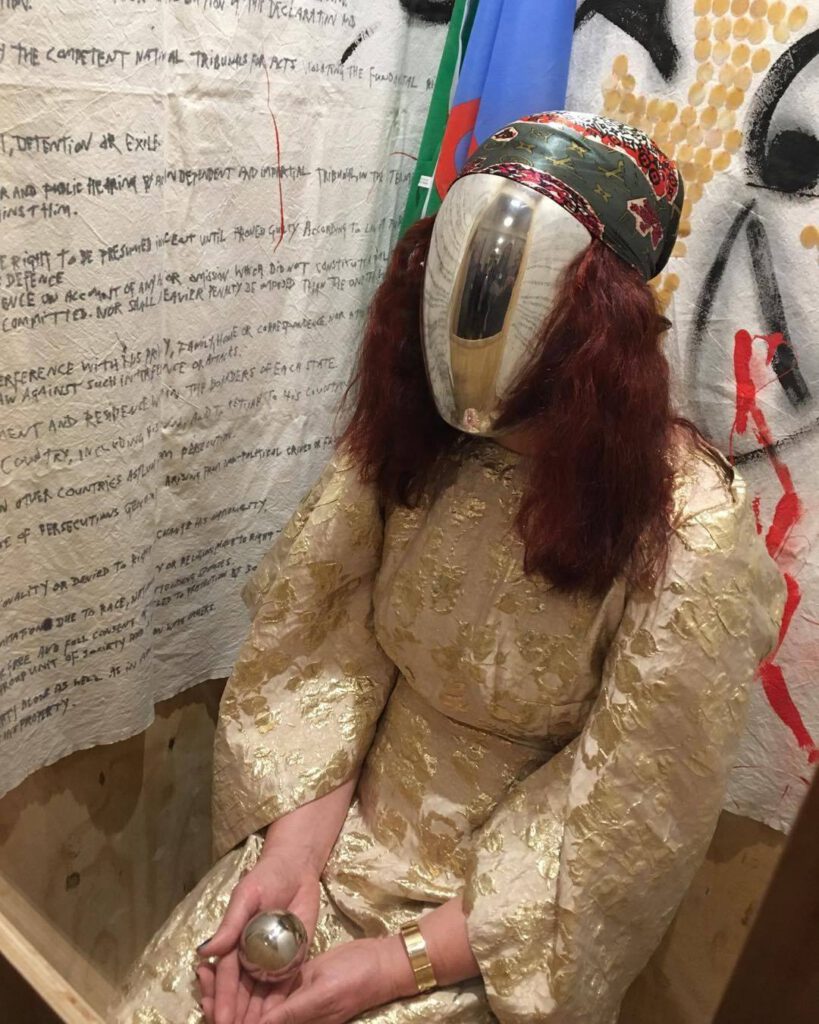 It can be one person, it can possibly be more. It can be a distribution point to question majority societies opinion and ongoing mistreatment of Romani as an embodiment of an international population. It can be a silent act of resistance.
HILTON 437 | Diskurs
9 April 2018
Maxim Gorki Theater, Foyer
By and With Hamze Bytyçi and Delaine Le Bas
Guests Idil Baydar, Lindy Larsson, Tucké Royale & Bon Bon Band a.o.
An interactive talk show, in the legendary Hilton Room's original furnishings, about feminism and queerness in art, and the emancipation movement of Roma and Sinti.